Formed in 2007, the Trio celebrate 10 years on the road! Their electrifying performances and remarkable audience rapport have made Tim Kliphuis, Nigel Clark (guitar) and Roy Percy (double bass) firm favourites on the festival scene.

The all-jazz programme "Celebrating Stéphane Grappelli" includes music from the Django Reinhardt days, Grappelli's years as a world-famous jazz star and five of his beautiful compositions, never played before on the international stage!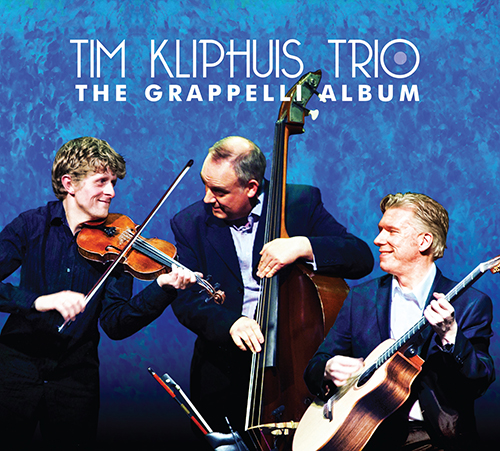 "The music of Grappelli is alive and well in the hands of Tim Kliphuis and his musicians"
- Nigel Kennedy

"Dazzling and dynamic finger-busters, joie de vivre and romance" - Scotland on Sunday

"Free-flowing, elegant and improvisational"
- Djangostation.com

Recent Trio highlights include the Amsterdam Concertgebouw, collaborations with the Netherlands Chamber Orchestra, the German Richard Strauss Festival and Glasgow's Celtic Connections Festival. In 2013, they received the Scottish Jazz International award.

Tim Kliphuis is one of the world's top improvising violinists with a unique and popular style, blending classical, gypsy jazz and folk music. He has shared the stage with Richard Galliano, Frankie Gavin, Les Paul and many gypsy jazz groups including The Rosenberg Trio. He has a busy international schedule, is an in-demand educator at competitions, masterclasses and conservatoires and is the author of the best-selling book "Gypsy Jazz Violin", which led to the formation of the annual Grappelli Camps in Holland.

Nigel Clark is an awe-inspiring guitar virtuoso with a unique sound, and has worked with the biggest names in jazz, folk and rock including Gloria Gaynor, Moya Brennan, Jan Akkerman, Philip Catherine, Carla Bley, Steve Swallow and Scottish hit band Hue and Cry. He toured the Far East with legendary jazz singer Carol Kidd and has played the music of Django Reinhardt all his life.

Roy Percy's bass sound is rooted in New Orleans and Jump-Jive, injecting the Trio with raw street rhythms and infectious grooves. He has worked with top Americans Duke Heitger, Marty Grosz, Bob Barnard and Evan Christopher. His unique bass slapping techniques, unrivalled in Europe, and his subtle dynamic feel make for a great range of emotions.

Official website: www.timkliphuis.com
Selected tracks from "The Grappelli Album" - click to listen.


Promotional photos, right-click to download.